Country
Submitted by: youngeyes - 7-Feb-2016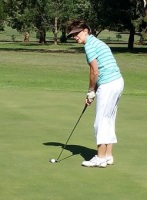 Country Girl - By Merry Kirkwood
The saying "You can take the boy out of the country, but not the country out of the boy", could be cheekily skewed to the feminine to fit local lass Jeanette Elliott.
A seven-year team member at YOUNG EYES in Boorowa St, Jeanette grew up on a nearby sheep/wheat property in Wallendbeen and wears her rural upbringing on her sleeve: "I still feel it when there's a drought on," she says, "that's all I know."
But the truth is Jeanette knows plenty more, having worked in numerous roles in the district, and having a fine eye for both tennis and golf.
...
read more