Archive for September 2016
Blog
Submitted: 29-Sep-2016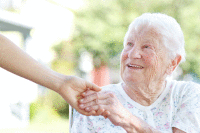 Vision loss is often associated with Anxiety and Depression.
It is not surprising that a reduction in vision will cause significant emotional distress and fear for the individual. What is most important is that we not only provide adequate treatment to minimise the vision loss but that we provide good support to individuals to minimise the psychological stress.
Vision Loss will lead to feelings of anxiety further preventing individuals from caring for others and themselves. It is likely to lead to reduction in mobility and access to social contacts. In fact loss of vision is one of the most feared results of ageing.
...
read more