Staff Profile - Catherine Miller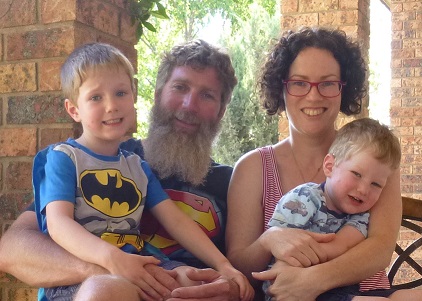 As Catherine Miller (optical dispenser at YOUNG EYES) sees it, some friendships project you towards interesting people, paths and places.
This has proved true for Catherine, originally Sydney born and bred. Years ago, friend Nicole made the introduction to future husband Matt, from Young… and the rest as they say, is history. "She was my local connection for sure," she quips.
While Catherine and Matt made their start in life in Sydney with idyllic times a fisherman's cast from Mooney Mooney's watery edge, they were destined for life in the country.
Fast forward nearly a decade, and Catherine, Matt and children Lewis, five, and Leroy, three, have recently moved to the Burrangong area having sold their first home in town: "When we first came to Young, we could finally buy a house, and afford some renovations, " she says.
The intervening years have been full of adventures, such as a stint working on the newly opened Bridge Climb experience during heady days of the 2000 Sydney Olympic Games. "It was pretty amazing," Catherine says. Ten people climbed every 10 minutes over the two weeks of the games."
Catherine's professional interest in eye health has been a constant. Despite missing a chance to study Optometry, she moved on instead to Orthoptics (the care for patients with eye disorders) at Sydney University, qualified for her Optical Dispensing Certificate, and continues learning part-time through the Australasian College of Behavioural Optometrists in Victoria.
One special interest is 'Convergence Insufficiency' where eyes don't function well in synch, influencing concentration and reading fluency as children learn. Catherine's professional knowledge means she is passionate about limiting children's time on technology – with its short 'focal point'. "Playing outside is like a form of therapy for the eyes," she encourages.
For Catherine, playtime now includes fishing at Burrinjuck with the kids, and some quiet quilting. A local, through and through.