Cleaning
Submitted by: youngeyes - 4-Feb-2016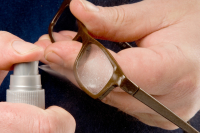 Your glasses are a significant investment. We only use Cancer Council endorsed lens coatings to protect your eyes and it is important to look after the coatings well.
When you clean your lens it is essential that you don't damage the UV protective coatings as these protect best against damaging light.
Cleaning your glasses wet will help prevent scratching.
...
read more